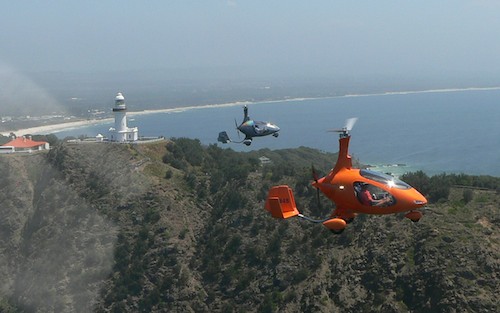 4 Pilots, 3 Cavalon 1 weekend.
George, Mick, Neil and Will cross the great divide once again for a nice trip to Byron Bay via St. Grafton. Departing SkyRanch at Manilla at 07:15, and arrived at St. Grafton at 09:00. Max ground speed was 115 kt, just a light tailwind kicked in half way across the great divide. After some breakfast for the Pilots, and fuel for the Gyro's we lined up at the runway for Tyagarah, just north of Byron Bay. It took us less than 1 hour, flying coastal, through the inactive restricted area of Evans Head to arrive at Tyagarah.
Will took Max ( a very interested local and now infected with the Gyrogrin ) up for a flight down to the Lighthouse, while we watched whales playing in the water. And of course, sharks, and dolphins hanging around  the surfers south of  the light house.
Next day we followed to coast southbound and landed at Palmers Island, Yamba, to visit our Auto-Gyro Australia Partner, and Instructor Peter Coulter. We decided to stay in Yamba over night and head home first thing in the morning.
We all had a great time, people wandered why we couldn't stop smiling… well after such a trip, its hard to explain.
Come with us on our next journey, sure we will do one in the next future.