Cavalon by Autogyro
Sleek lines, futuristic design & innovation and performance to match!
Cavalon has redefined the benchmark for contemporary gyro design and raised it even higher. These photos show the sleek lines and beauty of what has become arguably the standard by which all two seat side by side gyros will be judged into future.
Featuring unsurpassed comfort and visibility, the Cavalon has fully adjustable seating and controls, a generous luggage area and 100 litres of fuel capacity giving it a range that makes it a serious touring aircraft.

The very special, sophisticated and innovative product design of the Cavalon was decorated with the worldwide most renowned award in 2012: the red dot design award. The Cavalon has stood out of 4,515 products this year and has convinced a 30-member jury. The red dot is a very special award for AutoGyro, our quality standards and our innovation, and we are very proud of holding this logo.
This award is a very special honor and pleasure to us. It fills us with great pride that our inhouse designed and constructed gyroplane convinced another council of experts who adjudge our Cavalon to be outstanding for its design. In the name of the AutoGyro team we thank the German Design Council for this award and the appreciation of our products.
From the manufacturer
Entrancing and captivating. Whichever way you look at the Cavalon, she is a magnificent machine. From her distinctive Gull-Wing doors, to the ergonomically designed and crafted interior, it simply looks right. Generous picture windows are not only elegant in design, they are functional too, offering a stunning perspective to the viewer. Gracefully integrated Shark-Gill fi n designs compliment the look with sporting and yet functional rear.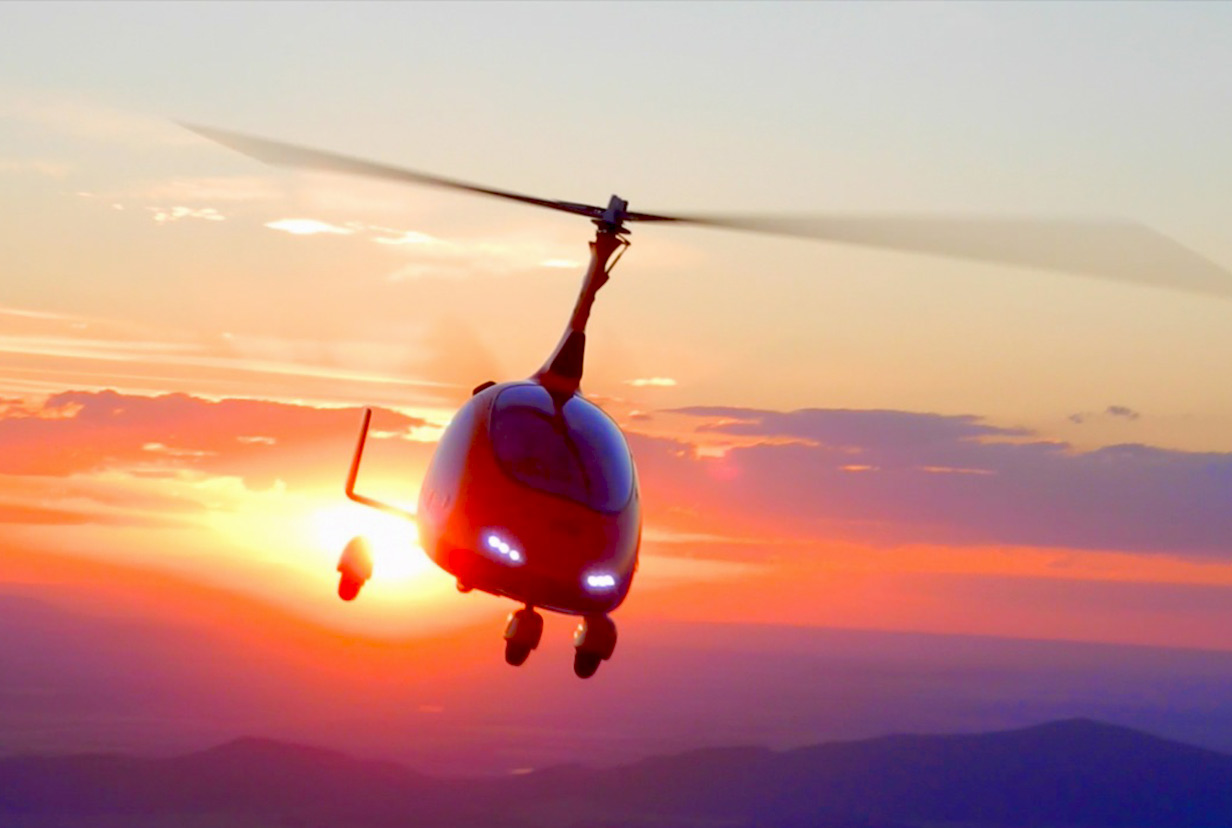 Pure craftsmanship – Made in Germany
Every Cavalon is designed to incorporate aesthetics, functionality, and elegance, resulting in a unique and attractive aircraft.
The Cavalon side-by side seated model is probably the best in the world. Stunning to look at and stunning to fly. Smooth, low vibration, fast, comfortable, economical, this is a machine to envy. Yet it is a real workhorse too.
The tough carbon and glass fibre body withstands the rigours of day-to-day work, always ready for action at the turn of a key. Maintenance is easy, with fast removable cowlings, giving quick access to the low maintenance Rotax 915 or 916 series engines.
The Aluminium rotors, chosen for robustness and reliability (composite rotors tend to suffer in high and low temperatures, and suffer rain erosion), chop through whatever the weather throws at them.
And AutoGyro is rightly proud of the safety features. The occupant safety cell protection is a proven and unique concept that works effectively in the real world. Furthermore, the aircraft is equipped with numerous detail systems to ensure safety. Including dual oil pressure warnings, fire warning, dual coolant temp warning, dual fuel warnings, multiple radio fitment, and ADSB. This is where years and years of experience count.
Of course, in todays world, there is always a need for paperwork. Cavalon has full standard airworthiness and numerous local country approvals, setting it apart in the gyroplane world. No matter which generation you choose, rest assured you are purchasing a globally recognized and safe aircraft.
Could that be why the Turkish Jandarma chose AutoGyro as their supplier of Cavalons for their aerial gyroplane fleet?
So, whether you are simply flying for fun, operating a flying school, or looking for a unique package to suit your hobby style – like water operations or fishing, AutoGyro has an aircraft package for you.
Cavalon offers a vast selection of features and options that can be combined, including amphibious floats and night VFR. Contact us to discuss your dreams, and we can design the perfect package to fit.
Technical details:
| | |
| --- | --- |
| L x W x H: | 4,6 m x 1,9 m x 2,8 m |
| Empty weight: | 285-305 kg |
| MTOW: | 450-600 kg |
| Engine*1: | Rotax 915 IS |
| Takeoff distance*2: | 30 m |
| Max endurance*3: | 6,0 h |
| Max range*3: | 700 km |
| Cruise speed: | 145-160 km/h |
| Max speed: | 195 km/h |
| Fuel capacity: | 100 ltr |
| Compliant with: | BUT, Section T, ASRA |
Technical data can vary regarding country-specific legal requirements, and is also depending on propeller/rotor/fuel and aircraft configuration.
*1: typical aircraft configuration, 1 pilot (80kg), 40 ltr fuel, 2000 ft MSL
*2: typical aircraft configuration, 1 pilot (80kg), max fuel, 2000 ft MSL
There are a number of options available including custom paint schemes, the latest Garmin GPS units, Sennheiser S1 digital headsets and more which will only enhance the flying and ownership experience even more. Don't forget to check out the Cavalon pic and video galleries!
– 2 seat Gyro side by side
– Monocoque construction incl. 2 removable doors, (each door with sliding window and air vent) – Aluminium Rotorsystem NACA 8H12, TBO 2500 h
– 3 Blade HTC propeller
– 2 luggage compartments behind the seats
– Instrument panel for Garmin 695/795 GPS ( does not include GPS)
– Cover plate GPS Garmin 695/795
– Compass
– Airspeed in kt
– Altimeter
– Engine/Rotor rpm
– Oil/CHT temp gauge
– Oil pressure
– Engine hour meter
– Electrical fuel gauge
– 12 V power plug
– Pneumatic Roll/Pitch trim
– Pneumatic Rotorbrake
– Pneumatic prerotator with safety lock
– Hydraulic main wheel brakes with parking lock
– Battery charging plug
– Fuel Tank 100 liter
– Rotor Bag
– Pilot seats with adjustable backrest, and sitting position
– Adjustable pedal position ( 1 hand operation)
– Tyres 6 PLY
– Foot mat black
– Indicator rod
– Colour White
– Cavalon logo black (choice of logos: silver, black or gray)
– Autogyro logo black
– standard Freight ( Germany to AutoGyro Australia )
additional options:
– IVO Propeller inflight adjustable pitch
– Spinner for IVO
– Spinner for HTC propeller
– keel tube fin ( improved protection against dirt and dust for propeller )
– Wheel spat front
– Wheel spats rear
– Radio ATR833-LCD, Funkwerk, incl. wiring harness and antenna
– Panel dock Garmin
– Garmin GPS 695
– Garmin GPS 795
– Transponder TRT800 H-LCD incl.antenna
– Transponder Microair incl.Encoder Combo Kit
– EA Horizon MigdaGH 025 El.Hor.Gyro, incl.connector
– ACL/NAV AutoGyro
– Landing lights LED
– Instructor pack
– add. Throttle for Instructor pack
– Manifold pressure gauge 914 UL
– Vertical speed indicator 80mm in ft/min
– Card Compass
– Headset Sennheiser S1, incl. XLR-3 Socket connection cable
– Cover light
– Cover strong
– Storage bag backrest
– Sunshield red
– Sunshield gray
– Filler cap lockable
– Foot mat black (set)
– i-pad braket ( for i-pad mini POA)
– i-pad charging cable big connector (for i-pad mini POA)
– Interior Heating
– colour choice from $1,275.00
– Keel tube painted
FREIGHT on special orders ( Germany to AutoGyro Australia)
Call Neil for more information on: 0427 936430 or email: neil@auto-gyro.com.au