The MTO Sport is a factory manufactured autogyro made in Germany using the latest in computer aided design (CAD) technology and is fully certified in Germany and the United Kingdom to the most stringent testing procedures.
In fact, the MTO 3 and now its successor the MTO Sport were the first gyroplanes ever to achieve British CAA BCAR Section T certification, one of the highest standards of certification in the world!
As at the end of Februar 2013, number 1000 is been build and sold.  Their popularity world wide continues to grow due to their renowned safety, clean aerodynamic lines and high enjoyment value.
With the MTO Sport, its not not all play either, it is ideally suited to aerial observation roles, photographic sorties, or in daily service for pilot training. In fact there are a number in Australia that are used in agricultural applications due to their STOL capabilities and dramatically reduced running costs when compared with helicopters!
The MTO Sport is also used by Government agencies in Europe for traffic observation duties, search and rescue coordination other important roles.
Beacause of the low running costs, the MTO Sport has untold potential for use in emergency situations such as bush fire and flood observation, coastal observation and has been successfully used in a trial for Shark Watch on the NSW North Coast.
The MTO Sport can operate from just about anywhere and the are many examples round the world and especially in Europe where skis or floats have been routinely fitted.
There are many well thought out design features which make the MTO-Sport highly durable with a long life expectancy and that set the best selling MTO Sport apart from its competitors and just some of these are;
The MTO Sport airframe is manufactured from high grade TIG welded stainless steel which is electro-polished to give it amazing durability and a handsome shine as well making it easy to inspect and maintain.
The MTO Sport is powered by the reliable industry-standard Rotax 912 ULS aircraft engine, which provides excellent performance. Of course, the Rotax 914 Turbo is also available as an option giving even better performance.
The tail unit, nacelle, propeller and the main landing gear are manufactured from high quality composite materials.
The rotor system is extruded from aviation-grade aluminum with a NACA 8H12 airfoil section.
The hub bar is reputed to be one of the strongest designs around and is exclusve to the MTO Sport and in fact used in all aircraft manufactured by Auto-Gyro Germany.
The MTO Sport is the first aircraft to gain approval under the German regulations for ultralight autogyros. The strict German noise regulations ensure that the MTO Sport is very quiet.
Superb quality factory construction and finish.
Wide range of standard colour options.
Custom painting – your colour, your design!
With its modern styling and high performance, the MTO Sport turns heads wherever it goes and there is no shortage of takers for trial introductory flights commonly known as TIF's. The smiles say it all – it is probably the most fun you can have with your pants on!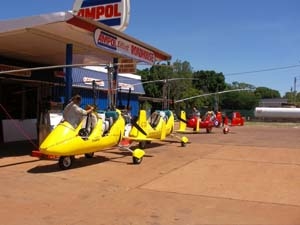 In 2007, four MT 03's (the predecessor to the MTO Sport) circumnavigated Australia – the first gyroplanes ever to achieve this. The trip took the four pilots just 15 days to complete and in the combined effort they accumulated over 400 hours of incident free flight time and covering more than 50,000km on the journey. A DVD compilation of the juorney is available through our shop or you can read the story here.
The advantages of the MTO  Sport over conventional fixed-wing aircraft
Open cockpit fun while remaining well protected from wind and rain.
Turbulence has little or no effect – no bouncing around!
Minimal take-off distances (typically 50 to 150 metres).
Very short landing distances.
Wide speed range, with a very low minimum speed safely possible.
An MTO Sport costs around 10% of the cost to own and operate a helicopter yet can accomplish 90% of what a helicopter can do.  Unlike a helicopter an autogyro cannot hover, take off or land vertically.
Just how good is it? Over 1400 aircraft have been sold world wide and the MTO Sport has deservedly earned an enviable reputation for its design excellence, performance and enjoyment value, so whether you are flying cross country or enjoying a relaxing local area flight, the MTO Sport is the gyro for you!
Features of the MTO Sport
Two-seat tandem autogyro.
Dual controls
Airframe and accessories fabricated from high grade TIG welded stainless steel which is electro-polished.
Engine – Rotax 912 ULS 100 HP or optional  Rotax 914T (turbo) 115 HP both with 1:2.43 reduction gearbox and slipper clutch as standard.
Useful payload of up to 250 kg.
High-grade stainless steel exhaust system.
Cockpit, seats, landing gear, 3-blade propeller and tail unit all fabricated from hi-tech composite material.
Nose locker.
Hydraulic disc brakes  on the main wheels with lockable parking brake.
Pneumatic in-flight adjustable trim.
Pneumatic rotor brake.
2 radiators guarantee that there is no overheating during the hot Australian summers.
Oil thermostat regulates the Oil temp at 80 degrees.
68 liter conductive Poly Ethylene fuel tanks with integrated drain.
Auto-Gyro extruded aluminum rotor system featuring a NACA 8H12 aerofoil. TBO 2500 hours
Powerful engine-driven pre-rotator
Full size windscreens for pilot and passenger
Wide range of colours
MTO Sport with Rotax 912 ULS with 100 HP FLY AWAY
or 914 UL Turbo with 115 HP, ( additional costs apply )
– 2 seat Gyro tandem
– Frontseat with windshield for passenger
– Luggage compartment in nose (max.10kg)
– Airframework in high-grade stainless steel, electropolished
– Aluminum rotor system Naca 8H12 8,4m TBO 2500 hours
– Gearbox with integrated slipper clutch
– Exhaust system high-grade steel
– Carburetor heat (912 only)
– Propeller HTC 3B CW172,5
– Instrument panel for Garmin 695/795 GPS ( does not include GPS) – Cover Plate GPS
– Compass
– Airspeed in kt
– Altimeter
– Engine/Rotor rpm
– Oil/CHT temp gauge
– Oil pressure
– Engine hour meter
– Powerplug 12V front
– Pneumatic Pitch trim
– Pneumatic Rotorbrake
– Pneumatic prerotator with safety lock
– Hydraulic main wheel brakes with parking lock
– Integrated antenna in tail
– Fuel Tank, capacity 34 litre left side
– Additional fuel tank 34l right side
– Rotor Bag
– Tyres 6 PLY
– Seat cushions sport design
– Colour White
– Sport logo black ( choice of logos: silver, black, gray )
– Autogyro logo black
– Registration ASRA
– standard Freight (Germany to Auto-Gyro Australia)
additional options:
– Big Foot tyres
– IVO Propeller inflight adjustable pitch propeller
– Spinner for IVO
– Spinner for HTC-prop
– keel tube fin (improved protection against dirt and dust for propeller)
– Fuel gauge (electric) incl. sensor
– Second fuel pump ( for Rotx 912 only)
– Airscoops incl.second radiator
– Manifold pressure indicator 912 ULS/ 914UL
– Card compass
– Vertical speed indicator 80mm in ft/min
– Panel dock Garmin
– Garmin GPS 695
– Garmin GPS 795
– Radio ATR833-LCD, Funkwerk, incl. wiring harnes
– Transponder TRT800 H-LCD, incl. antenna
– Transponder Microair incl.Encoder Combo Kit
– EA Horizon MigdaGH 025 El.Hor.Gyro, incl. connector
– ACL/NAV AutoGyro
– Landing light LED
– Instructor pack
– Cover
– Map bag
– Luggage bag (set)
– Helmet with Headset
– Visor clear / tinted incl. Nuts and Bolt
– Thermo Suit S – XXXL
– pedal position S recommended for < 175cm
– pedal position XL recommended for >190cm
– colour choice from $825.00
FREIGHT on special orders ( Germany to AutoGyro Australia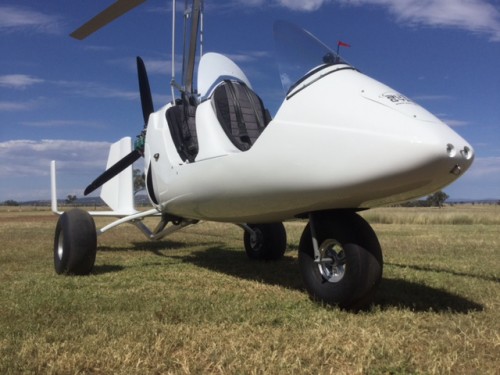 Click here for a free downloadable pdf brochure with more information