MTO Instructor Peter Coulter in South America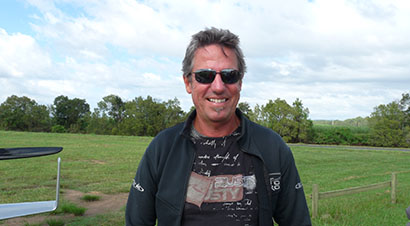 Intrepid MTO Instructor Peter Coulter has just  finished the gyro part of the adventure of a lifetime and has sent through a quick update on his travels to date.
I Shared the flying with Andy and Melanie Stuetz who are on their Weltflug adventure with their MTO Sport. All didn't start well as it took nearly three weeks of  'tangoing' in Buenos Aires while Mel and Andy wrestled and argued with the Argentinian Customs to finally allow the gyro into the country.
The gyro was delivered in a container on the back of a 67 year old Scannia truck with me riding shotgun.  If getting the gyro through customs wasn't enough the truck got bogged at the airfield and had to be towed out. With that 'little' task done we then had to man handle the gyro off the back of the truck and assemble the wheels rotors and raise the mast. That done, I did the test flight with all good as usual. 

We flew from Buenos Aires to the magnificent Iguaccu Falls and then across to Peruibe on the Brasialian coast. I got to fly the last 400km to Rio de Janiero and that was certainly the highlight for me. Our first attempt f ailed about an hour into the flight when the weather closed in and visibility reduced to next to nothing, so we waited a couple days until the low moved away and tried again.
We flew over heavily forested mountains which dropped sharply down to the Atlantic caust and then over a mass of islands and peninsulas. We flew between 2500 and 500 ft agl and followed the coastline. There was different weather at every bend, high cloud, low cumulus, rain showers and blue skies, absolutely awsome.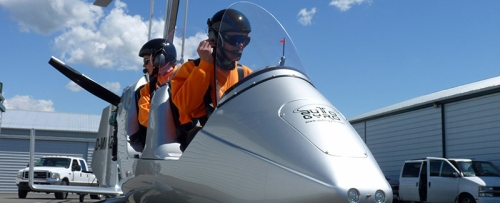 We had one stop at Ubatuba and then I fumbled my way through the Santa Cruz control zone trying to interpret a Portugese version of English and then on to Ceu where there are three beautiful grass strips on the edge of a lake. Ceu is home to the largest ultralight club in Brasil which has about 300 members with facilities like a swimming pool, personal wine cellars, snooker table and much more. When we landed they were waiting for us with a bottle of Chilean Merlot Red – how good is that!
Two days later we organised one of the local instructors to fly his aircraft with the port door removed and me in the seat with both the still and movie camera. Mel and Andy flew around the Cristo and I hung out the plane and filmed them, I´m not sure who had more fun!
We're sure that there will be more updates from Peter in the future. If you want to catch up on Andy and Mel's trip to date you can check out their website here.