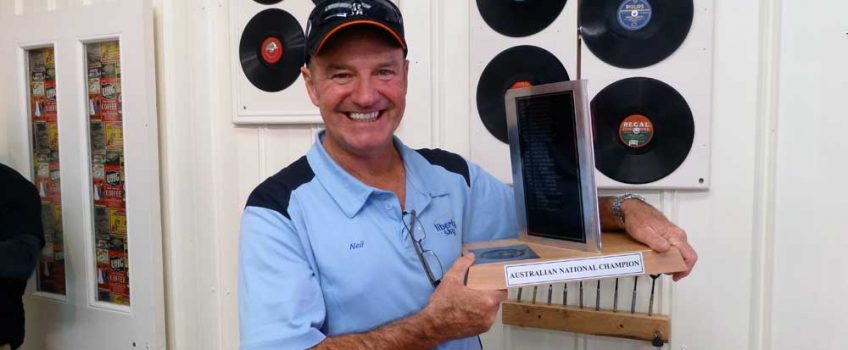 National Champion Trophy
This year the Australian Sports Rotorcraft Association held there annual National get together at Goolwa, just below Adelaide in South Australia. A group of Auto-gyro owners decided to make the trip to check out this beautiful part of the world as well as test their skills against other pilots from all over the country.
Dave Bella flew his Cavalon down from Caboolture to meet up with Neil Farr (me) at the Skyranch. The next day we set off for Parkes to meet up with Bud Felton and Clock in their MTO Sports after they had flown in from Somersby and had been waiting since the day before. After heading into town for a feed and gyro fuel, we tracked to Narrandera where we landed and transferred fuel from our Gerry cans into our main tanks for the next leg which followed the Murrumbidgee River into Hay. All up about six hours flying and a great start to the trip. After spending the night in Hay, we fuelled up with avgas and set off for Mildura. Mildura looked beautiful from the air as we approached along the Murray river and checked out the many houseboats moored along the bank. It's a very busy airport with a lot of Commercial traffic arriving and departing, but we managed to fit in without trouble. We again fuelled up with avgas before walking to the terminal to get lunch. In order to get to the café, we had to pass through customs with two of us being picked out to be further scanned. After they worked out that these guys flying those funny little machines were no threat to security, we managed to get a much overdue coffee and burger.
Next leg was a straight run into Goolwa tracking around the northern side of Lake Alexandria. Clock was worried about his fuel about an hour out so landed on a quiet road and transferred a bit of fuel from his jerry can on the back seat into his main tank. Then it was into Goolwa to meet up with Rick and Kay Elliott, who had flown down a couple of days before in their Cavalon. It was quite pleasing for the organisers to see a good number of pilots and a wide variety of machines in attendance.
The next day, Friday, was a lay day so we took the opportunity to check out the region. We flew down along the coast past Victor Harbour and, as we had our life jackets on, did the ten minute water crossing to kangaroo Island. We landed on a private strip where the owner loaned us a car to check out the local village. Then it was back to the mainland for some more beach flying before covering the gyros and heading for dinner.
Saturday was the day of competition. The tests comprised of judging short field take off distance, aerial manoeuvres and airmanship, and spot landings with no power from 500 feet. In the afternoon there was a navigation exercise to find landmarks by using a map only, no GPS or Aus Runways. Then there was time for me to do a couple of TIFS before dark to show some of the locals what flying a gyro is all about.
Next morning was again some socialising and sightseeing before flying North-west to Aldinga for lunch and the trophy presentation. To my surprise, I was awarded the National Champion Trophy.
Another great evening was had in Goolwa before heading off on Monday morning for the return trip. Bud left us to track inland as he had to get home the next day, and the rest of us tracked along the coast, checking out the blue lakes at Mount Gambier and following the Great Ocean Road over the Twelve Apostles. This part of the coast is truly spectacular from the air, mostly at 500 feet. We overnighted in Warrnambool, then turned North for a stop at Lethbridge, then on to Shepparton for our last night.
Next day we split up, with Clock heading straight to Somersby, Rick and Kay tracked to Wagga and on to Cowra for the night, while Dave and I Flew to Temora for fuel, then set out for the Skyranch. The weather and the winds had been very good to us up until this day, but a strong Northerly made for a slow trip home. Dave had plenty of fuel for the leg, but I made a precautionary landing at Coolah for a splash of fuel. We timed it well as we arrived right before sunset.
The two Cavalons and three Sports performed faultlessly for the entire trip. We never had to lay a spanner on any of them and the fuel consumption figures were excellent.
Next year the Nationals are at South Grafton, so we look forward to going there and defending the crown.