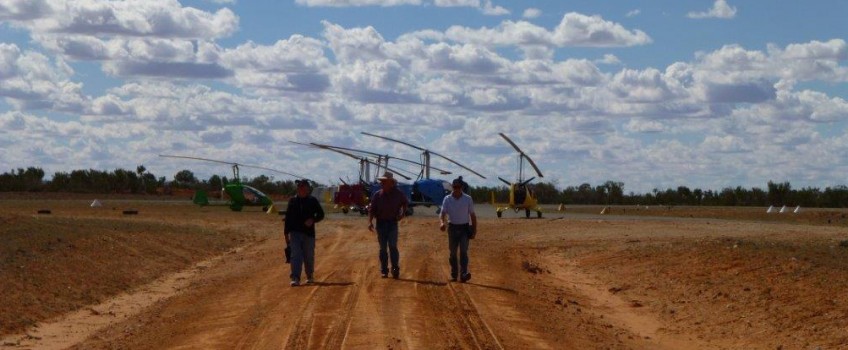 Rick Elliot's trip to Cameron Corner
On the 21st of August ten gyros from various parts of NSW were to meet at Narromine for a trip to Cameron Corner in the top left hand corner of the state. There were four MTO Sports, two Xenons, one M24 and three Ela,s. Unfortunately weather prevented the three ELA,s from getting out of Wollongong and Katoomba but the rest of us made it to Narromine.
We left Narromine and headed to Cobar for a fuel stop and then a lunch stop at Tilpa pub, no alcohol but the biggest steaks I have ever seen. After lunch it was off to White Cliffs for a night in an underground motel, more fuel and a great meal. The next day had us flying very low between White Cliffs and Tibooburra with plenty of water on the ground from recent rain. Once fueled up again in Tibooburra it was off to Cameron Corner which is a general store with an airstrip in the middle of nowhere. On landing the seven gyros became an instant tourist attraction with tourists and local gyro pilots coming from everywhere to get a look at these fancy European machines.
Once everyone got their photos it was a late departure for a two and a half hour run to Thargomindah over spectacular Channel country. By the time we landed and got everyone fueled up it was dark and we were all ready for a good feed and a comfortable bed.
Our next day had us stopping for fuel at Cunnamulla, Dirranbandi and the next overnight stop at Moree. On our last day we woke to a fairly clear morning in Moree but with the weather to the east not looking that good. We all said our goodbyes in Moree as everyone was heading off in different directions. Three of us in Mto,s from Somersby headed to Gunnedah for a fuel top up and to check conditions on the range, it didn't look good but we poked our nose over the gap at Murrurundi and decided to track to Scone and check the forecast again.
We decided to cover up the machines at Scone and go into town for a meal which turned out well as there was a torrential downpour that lasted an hour or so.
At about three pm we decided to make a dash home to Somersby and it all worked well until we were about ten minutes out and down it came again, we all landed safely but pretty well drenched.
We covered around 1400miles in the five days, all the machines where rotax powered and performed faultlessly throughout the trip and once again the country hospitality has to be seen to be believed.