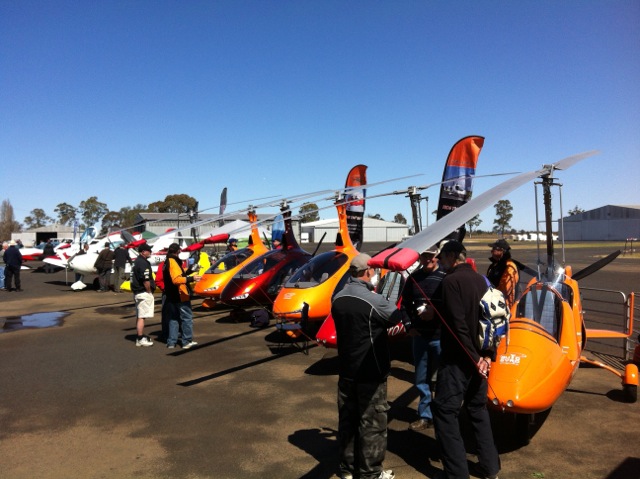 AutoGyro Aus @ AUSFLY 2012
Over the weekend of 14th – 16th September 2012 AutoGyro Australia attended AUSFLY at Narromine in NSW. We had our distinctive  orange MTO Sport and Cavalon demonstrators and we were also joined by Cavalon owners George Harris who recently took delivery of Australias first RED Rocket coloured Cavalon, Dean Mcfarlane in his orange machine and MTO Sport owners Rick Elliott and Tom Wollaston. Also visiting for the day was MTO Sport owner Jeff Blunt who also makes a point of being part of our promo activities whenever possible.
The response as always was great and we had many many people stop to talk gyro and all remarked on the quality of manufacture and presentation of the gyros in attendance. We also caught up with many old friends  during the show and there was a couple of very humorous and enjoyable evenings at the Aero Club thanks to one George Harris.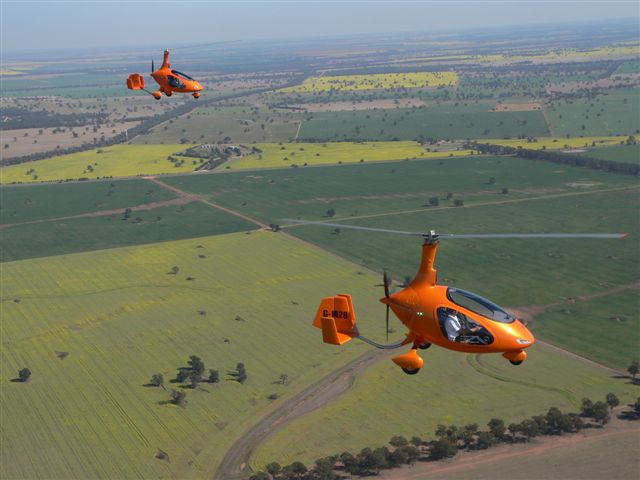 The flight to Narromine was a little chilly courtesy of the fresh nor Westerly wind featured five (5) gyros all in formation (well for most of the way!) but especially on arrival at Narromine where we all joined the circuit together making for a very impressive arrival which was commented on positively by many.
You can see from the pic of two of the Cavlons on the trip  that this country side is just a pleasure to fly over with the canola crops in full bloom.
AUSFLY 2013 will be even bigger and better and the AutoGyro range of aircraft will feature in aerial displays over the weekend so make sure you get there.