Another Successful Natfly
Natfly 2012 sure lived up to expectations! While attendances to the event appeared to be down, the number of people  that were genuinely interested in state of the art gyros that visited us was very encouraging.
We had the latest offering from AutoGyro Germany, the Cavalon on display and of course the best selling MTO Sport but it was Cavalon that stole the show with its very roomy cabin, excellent panel and performance to match its futuristic styling.
This photo was taken early on Friday morning before the public descended on exhibitors for the three day festival of recreational aviation.
A highlight for the weekend was when Andrew and Helen, producers of Sport Pilot TV stopped by and shot a segment on Cavalon for their show which airs in July 2012. We even got Helen a relaxed flight in Cavalon on Sunday morning and judging by the grin we may just see her line up for another flight when the opportunity arrives. Look out for Sport Pilot TV, it's all about recreational aviation.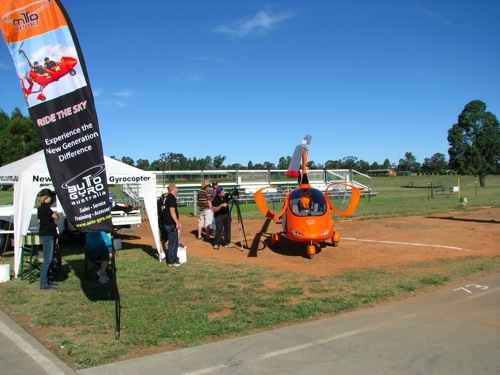 Senior Instructor Neil Farr was kept very busy with trial flights during the weekend and there are a number of people booked in to follow up with initial training and more trial flights.
This year we had new MTO Sport owners Rick and Kay Elliot as part of the team and they were kept very busy and were able to give a student owners perspective to visitors to the stand.
A big thanks must also go to Robyn, Neil, Rick and Kay for a big effort and the great job they did in making sure everyone's questions were answered.