MTO Sport and Calidus Star at Natfly 2011
AutoGyro Australia once again featured the MTO Sport and this time also Calidus at Natfly 2011.
Unfortunately the weather gods weren't 'playing ball' on Thursday with unseasonal fog seeing us divert to Narromine enroute and waiting for it to lift before we continued on to Temora.
Friday greeted us with amazing gyro weather and resident AutoGyro instructor Neil Farr absolutely relished the 20kt conditions to put on one of the most skilfull displays of the day showing the MTO Sport at its best. The crowd was certainly very impressed and there was a constant stream of visitors to our stand that were just blown away with the performance of the aircraft.
A number of the AutoGyro family also visited with Jeff Blunt who along with Warren Redmond attempted to get through in a Cessna 182 charter having to turn back just thirty miles from Temora due to the fog. A big thank you goes to Jeff for giving up his Friday to help us man the stand so we could cope with the many interested people who came to see our aircraft.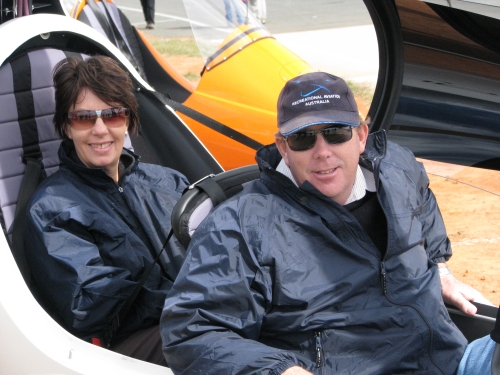 Calidus was a show stealer again with its sleek lines and many heads turned skyward when it flew the circuit all appreciating its sleek lines and noticeable speed. Gyro fans were also asking about Cavalon, the new two seat side by side released in Germany two weeks prior to Natfly.
Judging by the number of brochures handed out and quotes given we should soon see a number of MTO Sport and Calidus aircraft join the ASRA register.