First MTO Sport in US Law Enforcement Deployed
In Tomball Texas USA, crime fighting has been taken to new heights!
The Sherriff's of the Tomball Police Department will now take their law and order enforcement to the air.
After being selected from a nationwide pool of candidates, the Tomball Police Department will be the first American public safety organisation to put the AutoGyro MTO Sport into aviation law enforcement service.
In Novemebr 2010, the MTO Sport passed a multi-level evaluation process and was chosen over numerous competitor aircraft by the Department of Justice and this deployment is the first of many planed by the Department.
In the Texan city, traffic and criminal activities will be monitored from the air. The aircraft will also be used in search and rescue operations along with other surveillance activities.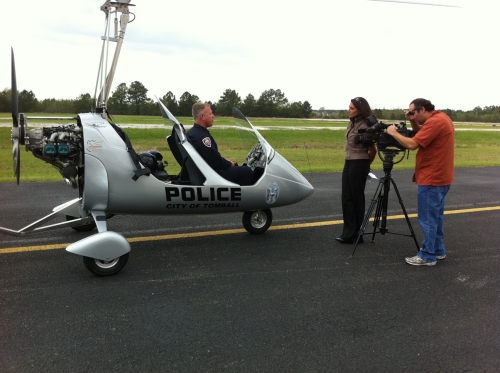 Chief Robert S Hauck said "the Tomball Police Department is very happy about our new gyroplane 'Made in Germany'. "The use of this type of aircraft is not novel. The real novelty is implementing the best practises from Europe in the United States".  Chief Hauck went on to say "this is an exciting opportunity for the city of Tomball to impact positively public safety in our community and surrounding areas, but moreover, this is an opportunity for us to make significant contributions to law enforcement nationwide.
A video of a news item can be viewed here
Let's hope that in Australia, our Law Enforcement and other agencies 'discover' the positive benefits that deploying gyro aircraft will have and that they seriously evaluate the capabilities in spite of any undue pressure from the helicopter lobby or poorely informed bureaucrats.