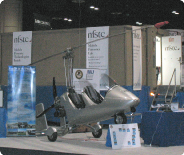 US Dept. Of Justice Chooses MTO Sport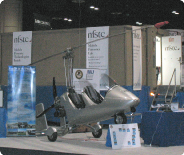 The US Department of Justice has chosen the MTO Sport gyroplane as the latest aircraft to wear its uniform!
AutoGyro GmbH has been officially chosen to be the partner of the US Department of Justice within the Law Enforcement Aviation Technology Program and their gyrocopters clearly stood out from the crowd passing a strict and multilevel selection process prevailing against numerous competitors.
Amongst many other criteria, the various fields of application, flight characteristics, qualityof manufacture, aquisition and operating costs as well as the availability were all key areas where the AutGyro aircraft excelled.
Thanks to its agility, field of vision and low operating costs, the gyrocopter is the ideal alternative to helicopters.
The US authorities will take advantage of these attributes and from now on a specially equipped MTO Sport will serve the law in the cause of the Sheriffs' Association of Texas.
At the International Association of Chiefs of Police Conference in Orlando, Florida, this MTOsport was displayed and received great interest from both U.S. and International Law Enforcement. In the future, more autogyros will enrich the air fleet of the U.S. Department of Justice.
AutoGyro GmbH Managing Director Otmar Birkner said "It is a great honor for us receiving this confidence and award and we are looking forward to cooperating with the U.S. authorities and other law enforcement agencies"